Winter is here, which means that great local seafood is back on the table. Succulent Dungeness crab steamed with garlic butter, Hog Island Kumamoto Oysters on the half-shell with mignonette, moules-frites au Roquefort, grilled whole snapper with fresh lemon juice and chopped parsley. Whatever your deep sea fix is, we've got the perfect wine for it. Here are a few suggestions.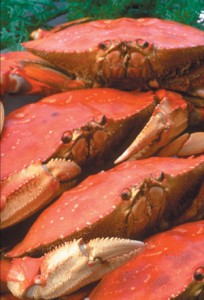 2011 Pierre Henri Muscadet Sevre et Maine 
Muscadet is the briny, zippy, dry white wine native to the region around the city of Nantes on the Atlantic coast and is what you sip when you have oysters plucked fresh from the sea in that area. Pierre Henri has been making his mineral-driven ferment for decades in the same fashion. Ripe grapes are picked and fermented on the skins in concrete vats buried underground, These age on the lees for two winters in order to gain richness and texture. But the secret of Saint-Fiacre lies in the soil itself. Covered many years ago by the sea, a thick layer of fossilized seashells composes the subsoil adding a mineral streak to the wines. Perfect with our local Sweetwater oysters on the half-shell.
2011 Colle Stefano Verdicchio di Matelica
Verdicchio is one of the most widely planted white grapes in Italy, but in the right hands it can be truly sublime. The best is found in and around the village of Matelica in the Marche on the East coast of Central Italy. Organic farming, low yields, and cool stainless steel fermentation make for a wine of precise balance, airy briny minerality, and herbal and citrus aromatics. Enjoy with all manner of fresh seafood or as an aperitif with roasted almonds and casatica di bufala.
2011 Valdesil Godello Sobre Lias
The NW corner of Spain is lush, rainy and cool and the local cuisine is centered around the ocean: a far cry from the dusty plains of La Mancha. The white wines there are correspondingly briny and fresh. These old vines are planted on schist soils which contribute their characteristic minerality. Extended fine lees aging gives the wine an unctuous texture balanced by bright acidity and citrus notes. Fried whole sardines with meyer lemon aioli and arugula on the menu?
2010 Roland Tissier Sancerre 
Sancerre is perhaps the most famous spot in France for Sauvignon Blanc which means that it can be difficult to find a well-made example for a reasonable price. This one's a classic. Fresh flower buds, grapefruit, with a streak of slate running straight through the middle. Perfect with oysters on the half-shell, mussels steamed with shallots and white wine or asparagus with tarragon vinaigrette.
2010 Edmunds St. John El Dorado Heart of Gold 
Steve Edmunds has been making delicious and unique Rhone style wines since the mid-eighties in his facility in Berkeley. His Vermentino / Grenache Blanc blend carries on the tradition of Rhone whites: lushly textured, redolent of white flowers, peaches, and almond paste, but with a fresh zippy brightness to keep things tight. Extremely versatile at the table. Enjoy with trout almondine, seared salmon with lemon-caper butter or even roast chicken.
Winemaker Duncan Arnot and cooper (yes he makes barrels) Nathan Roberts teamed up to make some of the most compelling cool-climate wines in CA right now. Watson Ranch is the southeasternmost tip of Napa Valley, looking right out over the San Pablo Bay. The soils are limestone with a layer of marine deposit on top. The grapes are picked at a moderate level of ripeness, pressed, fermented in stainless steel, and then transferred to neutral barrels for seven months. All of this is to say that it is a wine of tension and finely-tuned elegance that has a distinct sense of place and time. Forget oak and butter, this is limestone and sea breeze. Just about anything from the ocean will do, but especially crab.