Carles Roquefort Triumphantly Returns!
I'm very excited that we are now offering Carles Roquefort at the cheese counter. This is a personal favorite of mine and it's been missing from the US marketplace for a few years now.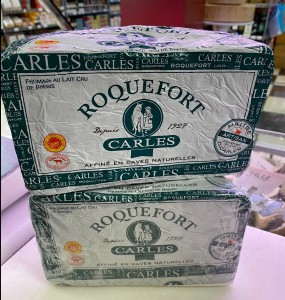 Carles is one of only 7 Roquefort producers remaining. I had the great pleasure of visiting the dairy a number of years ago and remember it like it was yesterday. What distinguishes Carles Roquefort from all others is their insistence on doing things in the most traditional and time-honored way.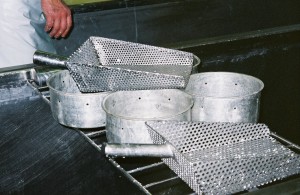 They still hand ladle the fresh curds into the molds that give the cheese its shape. This method pampers the curds and allows them to remain plump and full of texture and flavor.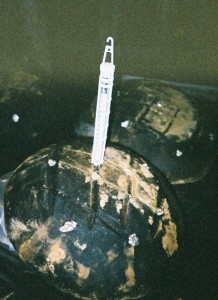 Carles also grows their own penicillium roqueforti strain by placing loaves of dark dry rye bread in the cool wet cellars. The ambient cultures in the cellars propagate within the bread.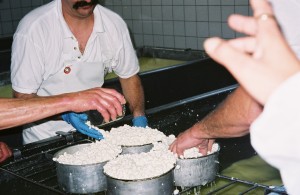 These black loaves are ground into a fine powder and sprinkled on the fresh curds. All of this extra effort is done by hand, not machines, employing hard working residents of the area.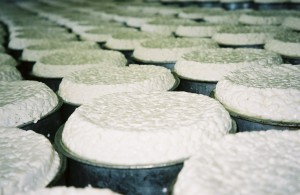 Carles and all Roquefort brands have been dealt a couple of heavy blows in the past decade or so here in the states. Back in 2009 in his last days in office, President Bush imposed a 300% tariff on Roquefort in retaliation against France not wanting to import our hormone raised beef. Thankfully the tariff was removed by President Obama, but other lesser priced cheeses began to fill the void.
Then in 2014 the FDA tried to essentially ban all raw milk cheeses by dropping the level of non-toxigenic E.coli (the same that are in all of our guts to keep us healthy) from 100 parts per million to only 10 ppm. That was a crazy year, and we were pretty sure we'd lose all our traditional raw milk cheese like Parmigiano Reggiano, Gruyere, Rush Creek, Quebec Cheddar and more. We had quite a battle ahead of us, but a united effort of US and European cheesemakers and scientist were able to provide evidence that non-toxigenic really does mean it's not toxic… wow, science really is our friend!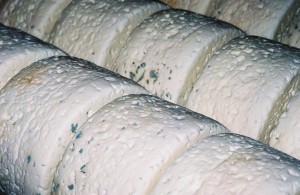 During this time Carles and others simply left the US market, focusing on their sales domestically and with more friendly countries. Ultimately, Carles (and other Roquefort producers) suffered what I call a generational skip, where a new younger consumer has simply never had the opportunity to know, taste, and enjoy true authenticity and craftsmanship in a cheese like Carles Roquefort AOP.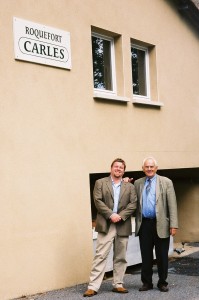 I've been trying to secure Carles for The Plus for a couple of years. I kept asking and was told they're not exporting to the US. But recently I heard a few wheels had made there way across the Atlantic. Being the kind of guy who likes to hear yes rather than no, I pressed harder and this week we received a few wheels.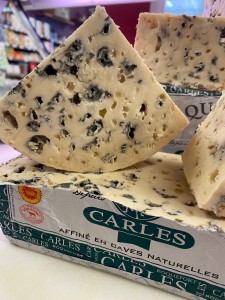 Opening the case, I was excited to see the familiar label. Roquefort and many other blue cheeses are wrapped with an absorbent "diaper" to collect excess whey and butterfat that might seep out during transit. These wheels are pristine, with no moisture weep. The cheese is dense and fudgy in texture with a creamy moist interior. The mold formation is fantastic, with visible texture you can easily see, such that you might be able to blow the mold into the air like dandelion spores.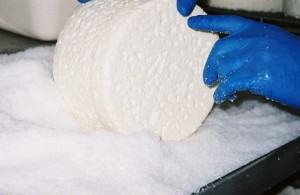 Flavorful is an understatement, this cheese is a power punch to your palate with bright salty notes that melt into brown butter and sweet grassy notes. The youngsters at the counter weren't ready for the flavor wallop, but I taught them an old trick I learned some years ago to spread a bit of butter on a baguette and spread Roquefort atop. This was the winning ticket as a symphony of eyes rolled back, and awes of ecstasy were heard across the store!
-Ray