Cheese in Paris: An Insider's Tour
Paris has more than 100 cheese shops, not including grocery stores.  Let that sink in a bit… Now count how many cheese shops there are in San Francisco, or New York, LA, Austin, Chicago, Portland… These cities combined, and you're not even close. That's incroyable!
In February, I participated in Cheese in Paris, An Insider's Tour, hosted by Academie Mons.  We were led by Sue Sturman, a bi-continental educator and food lover, who easily jumped between French and English as our translator. Equally important, she knew where all the metro stations were, and showed her skills as a seasoned cat herder.  More seriously, Sue possesses a deep understanding of the unique strengths and challenges between French and American cheese retailing.  It was a dream come true.  Paris + Cheese = Joy
During our tour, we visited quite a few cheese shops, from the old guard institutions of Nicole Barthélémy and Quatrehomme in the 7th and Laurent Dubois in the 5th, to the fresh new upstarts like Taka and Vermo in the 10th, and La Laiterie de Paris, an urban cheesemaker in the 18th.
Taka and Vermo was a really exciting shop for me. I liked it so much, I went back a second time to meet the owners Laure and Mathieu again, and learn more about their shop and philosophy.  I was impressed to see their commitment to selling cheese from producers they personally knew and had visited. Prior to opening the shop, the life partners traveled 10000 km across France, up to Holland, down to Spain, Italy, Italy, and Switzerland in search of the best cheeses.  It was here that I was offered a special Epoisses, the wonderful pungent washed rind cheese from Burgundy.  Laure explained that of the 4 remaining producers who make Epoisses, this was the only fermier, or farmstead, Epoisses available.  The aroma was yeasty and meaty. Imagine a steakhouse inside a bakery. She also showed her own creation of tender milky St Nectaire streaked with a layer of Asian peppers. A show stopper with aromas of citrus and the tropics, and a mild spicy note that accentuated the creamy cheese.
I've been to Paris many times, but never ventured all the way out to the neighborhood where the urban cheese factory La Laiterie de Paris is located.  This area, and similar neighborhoods are changing as young professionals are moving further from the center in search of affordable housing.  It's easy to assume a similarity to the gentrification of our Mission neighborhood or Brooklyn, but unlike here, I didn't see the shops selling $300 jeans and $60 haircuts with a shot of Old Crow.  Instead, this new guard of cheesemongers have set up shop with minimal expense. Ikea excursions for the display tables and shelving; these shops are all about the food, not prescribed hipster aesthetic rules.
Pierre Coulon apprenticed at Androuet through a government sponsored cheese training program. This innovative program offers applicants an opportunity to learn all about the cheese business and upon graduation places them in a cheese shop for an apprenticeship. This program actually encourages a career as a fromager, aka cheesemonger. As a shop owner, I'm blown away as the idea of being a tradesperson has such an unjustified negative connotation here in the states.  Anyway, back to Pierre.  He like Laure and Mathieu, traveled to meet a number of cheesemakers around Europe and across the pond to Canada. His journey was to learn the art and skill of cheesemaking.  Last year he opened the first cheese making operation in Paris. Thanks to a crowd funding website he was able to open his creamery and shop with a meager $160,000.  His tiny spot is only open a few hours a few days a week, where he specializes in fresh cow's milk cheese and fluid milk, alongside a handful of regional French cheeses with whom he has met and/or made cheese himself.
Pierre is an outspoken evangelist for lait cru, or raw milk cheesemaking. He was very clear when he told us he "works with raw milk, which is safer than pasteurized milk", and went on to add, "pasteurized milk is dead milk, if anything bad comes by (contaminants), it has no resistance".  Even for an old-guard cheese guy like me this was a startling statement. I believe him absolutely, and preach the same message every day. What was striking for me was how bombarded I am as an American and cheese specialist with beliefs completely opposite of this truth.
Equally fired up about the demise of dairy farming and raw milk cheese, we met Emmanuel Carbonne at Fromagerie Beaufils in the 20th. He is communications director for the 4-store chain, and is also vice president of the non-profit organization Fromages de Terroirs who promote traditional raw milk cheesemaking. Did you know as many as 50 traditional French cheese varieties have become extinct in the past 40 years?  His group wants us to know, and to do what we can to keep the traditional industry alive. Just like here in the US, big corporate farming and manufacturing, along with super-sized food stores, are driving out the little guy and artificially lowering the value of food with cheaper and cheaper products that bear little resemblance to their original character. If France, the motherland of cheese, is under threat we should all take note.
In fact, while we were in France the government sided with big dairy lobbyists who campaigned that traditional Camembert from Normandy could be labeled as such yet made with pasteurized milk. Previously labeled as "AOP Camembert de Normandie", the AOP Appellation d'Origine Protégée (protected origin) guidelines required the cheese be made with raw local milk, among other protections.  Even today as little as 1% of Normandy Camembert production is raw milk. Big Dairy argued that they already have the upper hand and won.  The law now offers a new name for traditional raw milk camembert "AOP Véritable Camembert de Normandy".  The new names will roll out in 2020, and the next generation of cheese lovers will likely never know what true Camembert once was.  Unfortunately for us, true raw Camembert de Normandie is unavailable in the US as it is simply too young to be imported here. Our laws require raw milk cheese to be aged 60 days, and Camembert is typically aged about 30 days.  Next time you're in France, make sure to visit an independent cheese shop, and look for the original lait cru version.  You can thank me later.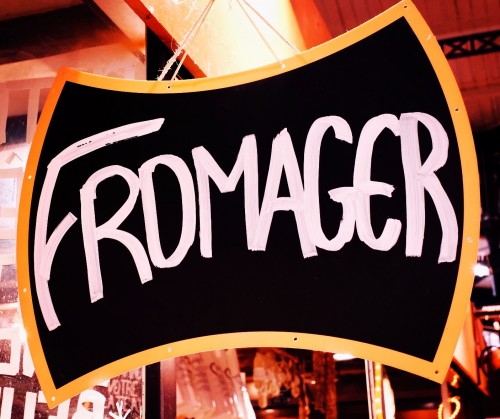 In all I was able to visit more than 15 cheese shops in Paris.  We had wine at lunch, rode the subway like the locals, stopped for hot chocolate when it our feet were too frozen from the snow, enjoyed delicious croissants, French cuisine, and a whole lotta cheese!  While there I also visited cheesemakers in the Loire and the Jura regions.  I'll be back soon to tell you all about that and more….
A list of cheese shops visited:
Fromagerie Androuet
Fromagerie Barthélémy
Fromagerie Beaufils
Fromagerie Beillevaire
Fromagerie Concourt
Fromagerie Griffon
Fromagerie Jouannault
Fromagerie Laurent Dubois
Fromagerie Marie Anne Cantin
Fromagerie Montorgueil
Fromagerie Quatrehomme
La Laiterie de Paris
La Vache dans Vignes
Marché de St Quentin
Ottanta
Paroles des Fromagers
Taka and Vermo – Artisan Fromagers
-Ray