Cazelle St. Affrique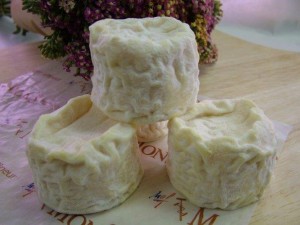 A soft dense sheep cheese from the region near Roquefort in France.  We like to think of it as a sheep milk Crottin, all soft and wrinkled with a sweet milky layer of cream near the rind and a smooth dense interior.
A cazelle is a stone hut created centuries ago to shelter the shepherds from storms and is small, round and squatty.  Herve Mons, our favorite French Affineur, named this disks after these squatty stone huts.
St. Affrique is a town located a few miles above Roquefort, and is the center for Roquefort production. The farms along the Midi-Pyrénées provide fresh raw sheep milk for the production of Roquefort and a few regional favorites such as Perail and our Pick o' the Week – Cazelle St. Affrique.
Under that wild wrinkly rind you'll find a sweet, nutty, butterball of cheese.  All the richness we love from sheep milk matched with a little tartness and gentle salty notes.  Spread this baby on a crusty Acme baguette and drizzle with a touch of your finest olive oil, and you're in heaven!  Match with a rich Chardonnay such as our favorite Macon-Charnay from Manciat-Poncet, or Keller Estate's Oro de Plato; or maybe a great Rosé like Verdad from Edna Valley or Domaine de Beaupré from Provence.