Your Guide for Creating a Fantastic Thanksgiving Cheese Board
We hear it all the time, "I want to put together a cheese board, what do you suggest?"  Putting together a selection for a weekend dinner is one thing, but when you're entertaining a roomful of friends and family on the most glorious food holiday of the year you need a little something special.  So let us guide you through a few of our favorites for Thanksgiving.
3 to 5 cheeses can make quite a splash when presented properly, so keep it simple, but dress to impress!  Start with the classics – maybe an Aged Cheddar, Manchego, or Brie and build from there. The addition of fresh fruit or preserves, nuts, crackers, or even cured meats can really take your board to the next level.  We recommend composing your cheese board with a balance of lighter and bolder flavors and textures contrasted with alternating milk types.  Try a spreadable creamy cheese, a firm textured cheese, something assertive – perhaps a blue or stinky washed rind, and maybe something unexpected or daring.
Soft and Creamy
Brie is the classic, but French Brillat Savarin is enriched with cream to give it a decadently soft texture and rich buttery flavor.  Vermont's Mt. Alice has a denser texture than Brillat that remains tender and creamy with a fresh milky flavor.  For a seasonal splurge we recommend a wheel of Swiss Vacherin Mont d'Or (Vaccarinus). Think of it like a wheel of Fondue, and gently remove the top layer of rind and enjoy by the spoonful.  This is a great "linger longer" cheese to enjoy throughout the afternoon and evening as its texture and flavor unwraps itself in ecstatic complexity.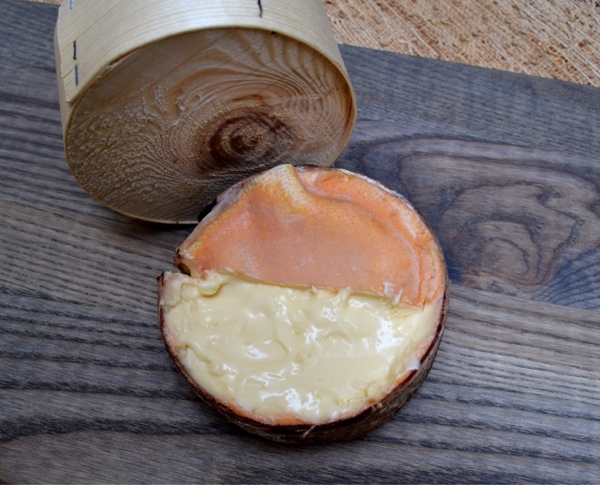 Vacherin Mont d'Or
Cheddar – America's Favorite Cheese
There are 2 camps for Cheddar fans – those who prefer the tart and crumbly bandaged wrapped style of Old England, or the richer "sharp" American Cheddar.  From Vermont we offer Cabot's Clothbound Cheddar aged at The Cellars of Jasper Hill.  Open air aging encourages wild mold growth and complex flavor development.  From Wisconsin we suggest the 5yr extra aged Hook's Golden Cheddar.  Extra aging means bold flavor and those crunchy crystals we all love so much.  For the purists we suggest Mary Quicke's English Farmhouse Cheddar – the original Cheddar from the homeland with a decidedly British tang.  Plus, we love Mary – she's a sweetheart!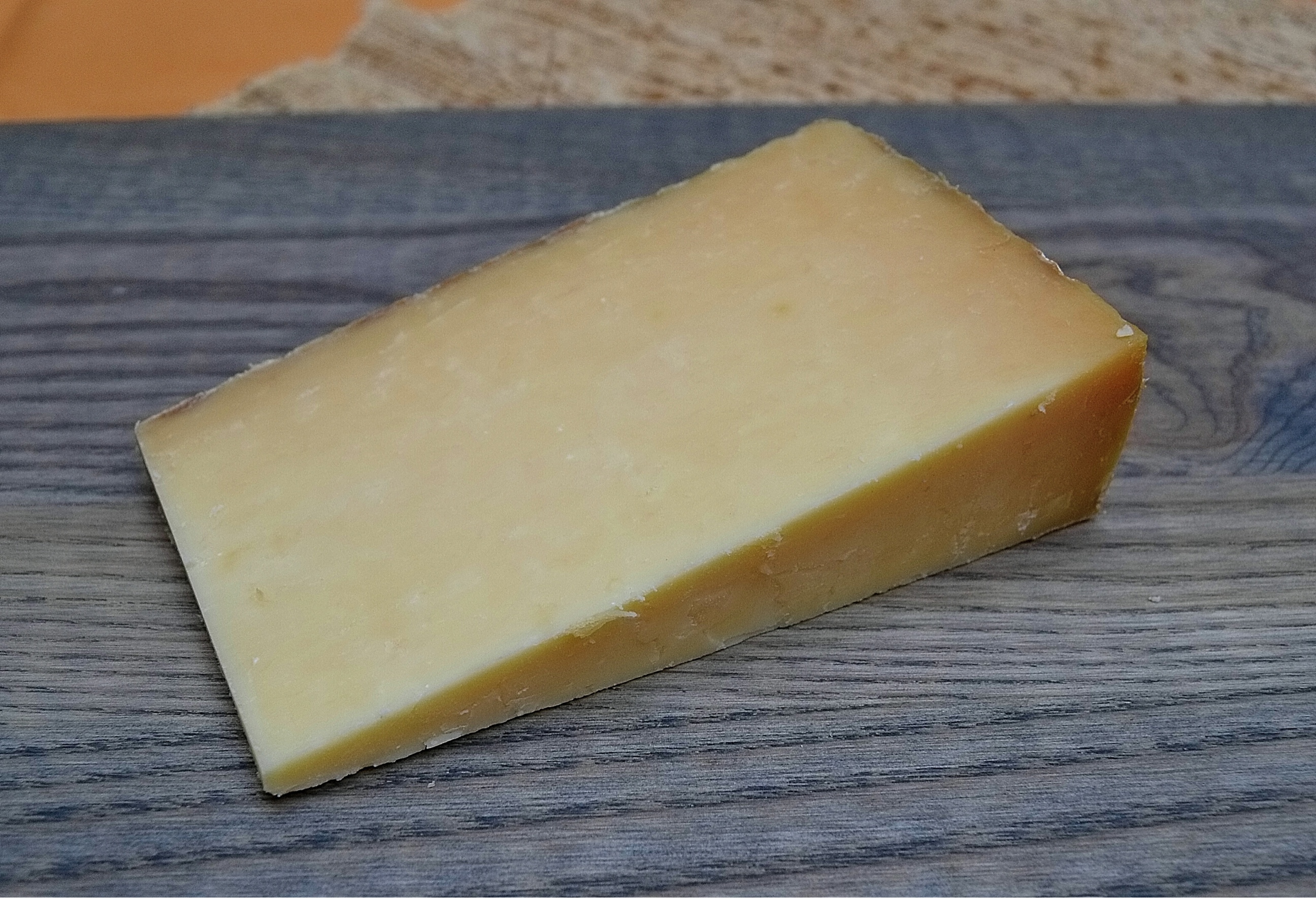 Cabot Clothbound Cheddar
Goat Cheese, The Great Divider
20 years ago Mary Kheen turned the world upside down with her Humboldt Fog and made American made Goat Cheese truly fantastic.  We love it paired with tart Sicilian Blood Orange Marmalade.  Still not sure your dining companions will appreciate goat cheese?  Then we suggest you try an aged Goat cheese.  As Goat cheese ages the sharp astringency of the lactic acid is converted into sweet and nutty notes.  From Holland we offer L'Amuse Brabander Goat Gouda.  This 4 month aged cheese has a snow white interior and a sweet Marzipan character.  Why not double down and go for French Pyrenees Tomme Chebris – a blend of goat (chevre) and sheep (brebis) cheese with hints of citrus and dense Greek yogurt flavors.
Just Give me the Hard Stuff
Parmigiano Reggiano is much more than just a grating cheese.  We love to break it into crunchy crumbles and drizzle with our 6 yr aged Balsamic Vinegar.  For Alpine fans it doesn't get any better than our 18 month aged Marcel Petite Comte du Gruyere from French Affineur Jean d'Alos.  This Gruyere presents a great balance of meaty flavors and a bright lingering finish.  Looking to keep it local?  We suggest Fat Bottom Girl from Sebastopol's Bleating Heart Dairy.  This small production Sheep milk cheese has an earthy appeal with nutty, buttery notes and pairs wonderfully with KL Keller's imported Basque Cherries in Syrup.
Got the Blues?
Blue cheese tends to be salty and full flavored, but if you'd like a little restraint we suggest Germany's Chiriboga Blue.  This smooth textured blue is gently "blued" to allow the fresh milky flavors to shine through.  On the other end of the spectrum is Colston Bassett's classic English Stilton – Meaty, Salty and intense.  And in the truly one-of-a-kind category we love Oregon's Rogue River Blue.  This limited availability cheese is wrapped in grape leaves from a neighboring vineyard that have been soaked in Pear Brandy from another neighbor's distillery.  The resulting cheese has a dense and fudgy texture and a bright wine-y aroma.  Unfolding the sweet moist wine leaves makes for a wonderful presentation.  Inna Jams fresh Pickled Fig Spread has a great balance of tart to sweet that we find quite irresistible with the Blues!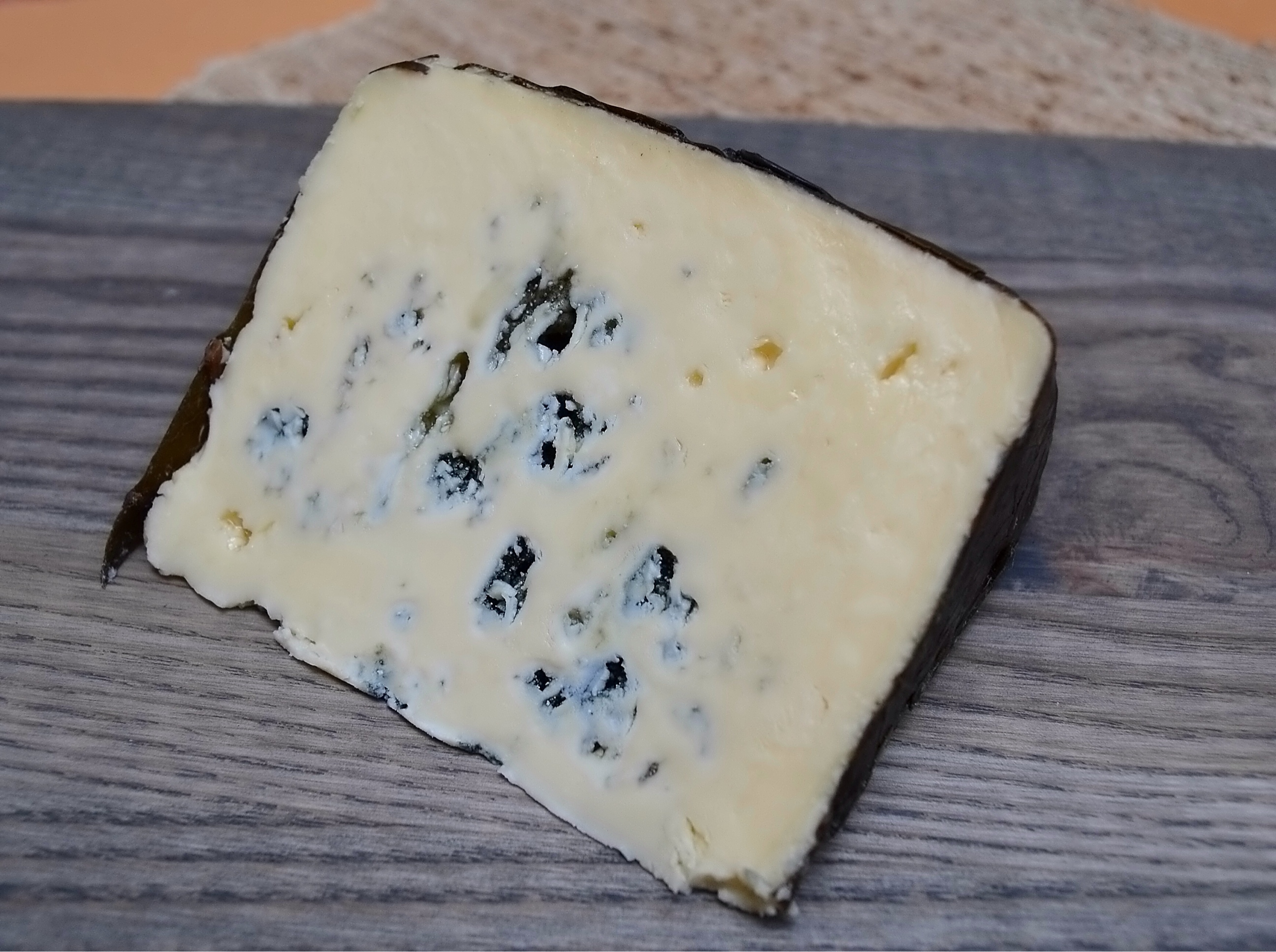 Rogue Creamery's Rogue River Blue
Want the Funk? Gotta have that Funk!
You're a Type A, you take care of business, and you expect your cheese to be as bold and assertive as you are, right?  Cowgirl Creamery's Organic Red Hawk has a wonderfully rich texture and a pleasant meaty aroma that won't blow your guests heads off.  On the other hand, French Epoisses du Bourgogne is an homage to meat, butter and salt – perfectly paired with a glass of Pinot Noir.  For fans of truffles cheese our own house-made Truffle Triple Crème is a no-brainer, while Italy's Caciotto di Bosco reflects its refined Tuscan nobility.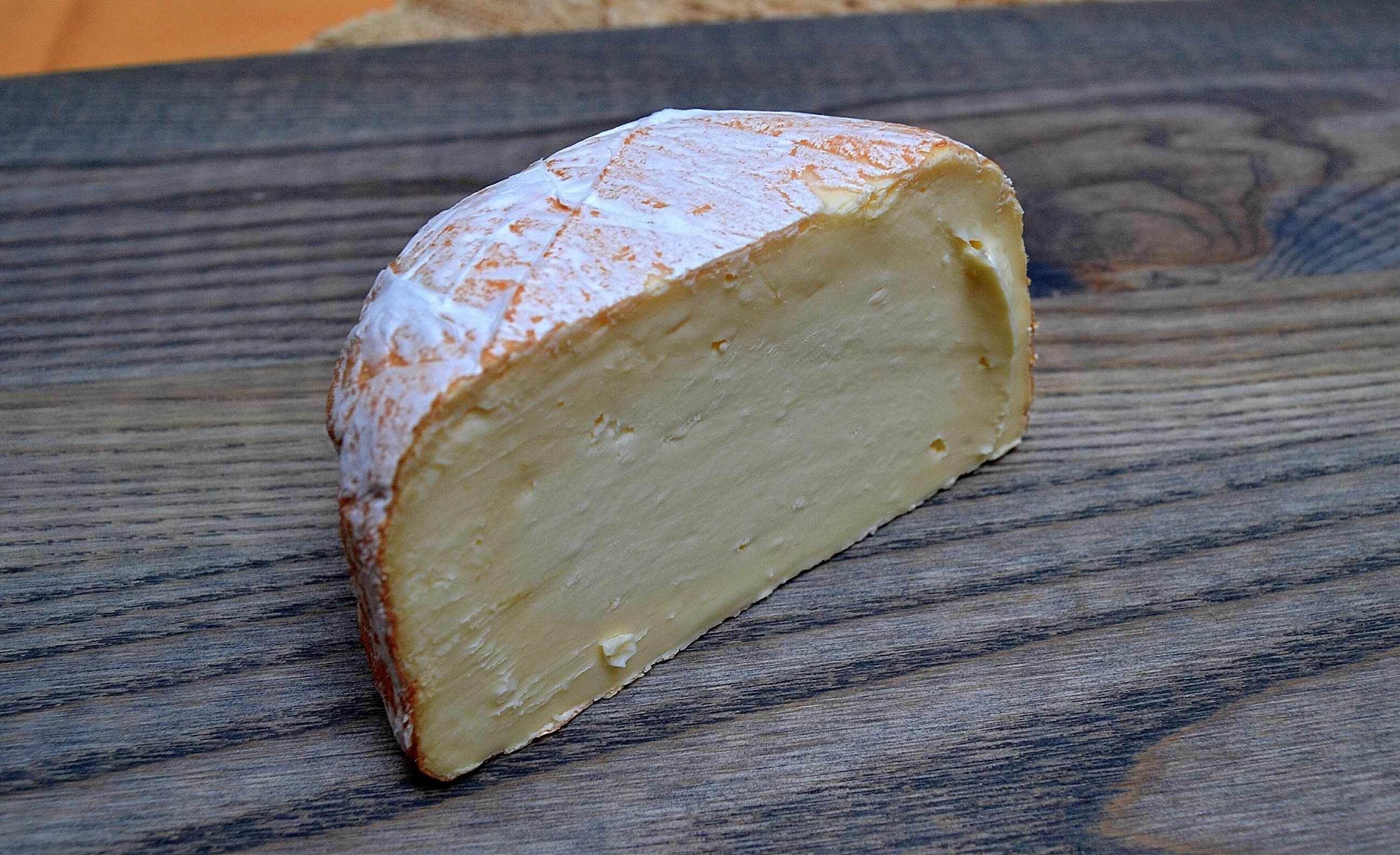 Cowgirl Creamery's Organic Red Hawk
Bread or Crackers?
Why not both?  While we prefer crackers for their crisp and crunchy textural contrasts, we appreciate the economy of a delicious sliced baguette.  Gluten Free aficionados will love Potter's Certified Gluten Free Oat Crackers.  These locally made crackers have a wonderful toasty character and crispy baked oat flakes sprinkled atop.
Shall we Meat?
Are you planning to serve your cheese after the meal?  If so, we say no meat.  If you're serving as an appetizer we say go for it!  Our Pio Tosini Prosciutto d'Parma has a sweet porkiness that won't overpower your cheese.  Salami fans rave over San Francisco's own Molinari Finocchiona studded with aromatic fennel seeds.  And who could resist a terrine of Fabrique Delices rich Duck Rillettes du Perigord paired with tangy pickled cornichons?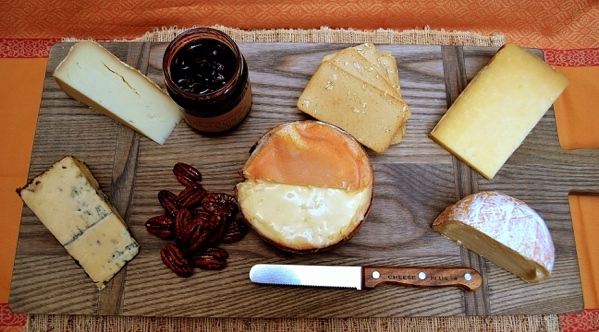 Simply Scrumptious Thanksgiving Cheese Board
Portions, Serving Suggestions and Cheese Etiquette
We suggest serving at least 2 ounces of cheese per person, per selection.  So if you're serving 6 people and have 3 cheeses you'll need about ¾ lb of each cheese.  Remember the soft cheese goes the fastest so you should plan on a little extra here.  If you can, please designate separate knives and/or spreaders for each cheese – especially blues, flavored, or exceptionally messy cheeses.  Choose a big board or platter and don't crowd the cheese.  If you'd prefer, serve each cheese on its own platter to keep things tidy!
And finally, Cheese Etiquette…  Look, rind happens, and if there's one thing that can make a cheesemonger cry it's watching someone dig out the interior of Brie and leave a perfectly lovely rind behind for someone else to clean up.  If you don't like the rind that's OK, all we ask is that you slice your portion of cheese (rind and all) and dispose of the rind you don't eat.  For more helpful tips and recommendations stop by The Plus and chat us up, we're here for you!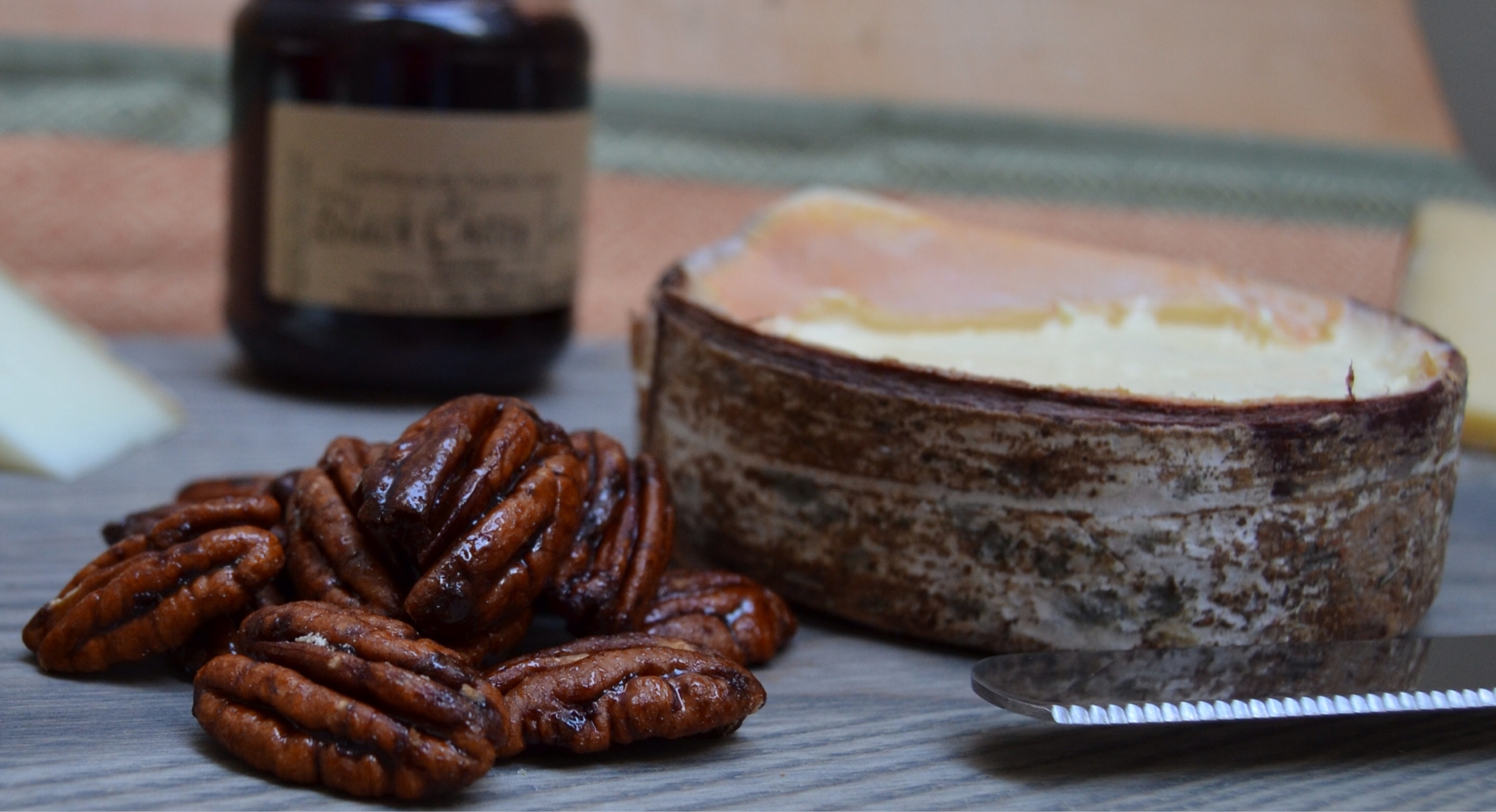 Caramelized Pecans