We owe a lot to the French
When it comes to cheese I've always said, "We owe a lot to the French".   With that in mind I recently travelled to Paris with my wife to celebrate our 10th wedding anniversary and to perform a little cultural culinary immersion.  My goal (in addition to 10 uninterrupted and unscripted days with my wife) was to indulge my desire for cheese, foie gras, and traditional French fare – not to be a greasy-bearded glutton, but to just enjoy myself and soak it all in.
We rented an apartment, which allowed us to stretch out a little and to buy a few things at the market for breakfast and snacks.  Armed with a few suggestions from friends, notes from David Lebovitz and Patricia Wells publications, we stepped out everyday to discover what Paris had to offer us.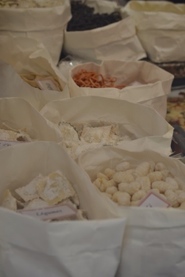 Fresh Pasta
It was my intention to visit as many open air markets, cheese shops, butchers and specialty food shops as possible.   These full service European shops are my "greatest hits" of retail inspiration, and I needed my tanks refilled after 10 years away.  Who else would get so excited to see freshly made pasta merchandised simply in white paper bags?  Here at home we package it all and label it up and down, making the romance second to efficiency.
I had a great experience at Fromagerie Griffon.  I went there on a tip from Juliana at the Pasta Shop, and I'm really glad I did.  We arrived in the afternoon, as the store was just re-opening from a midday closure.  The store was spotless and just about perfect, with pristine portions of immaculately wrapped cheese on display.  In the window I found little cellophane bags of roughly cubed aged Mimolette and Gouda ready for snacking, alongside small individual cheese boxes with a selection of portioned cheese for taking home.  Further inside the proprietress even had a few non-French cheese selections, which isn't typical in a shop like this.  I was impressed, but more curious about the French stuff.  
She offered an excellent Brebis from the Pyrenees that was more crumbly than Ossau Iraty with a spicy sharpness, and a pungent and squishy washed rind goat cheese – both made with raw milk.  I was after Reblochon, a cheese banned from the US during the Bush II era, and whose image was starting to fade from my taste memory.  Her selection was exceptional and I was awash in the milky flavors of the past.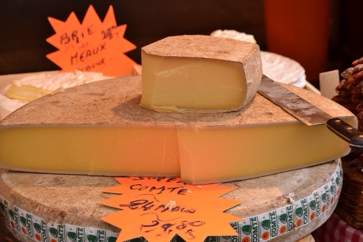 Street Market Comte
Also on my list was Roquefort, because as good as it is here, it is so much better in France.  Not because they have different Roquefort there, but because it hasn't been sitting in a refrigerated container ship travelling across the Atlantic Ocean.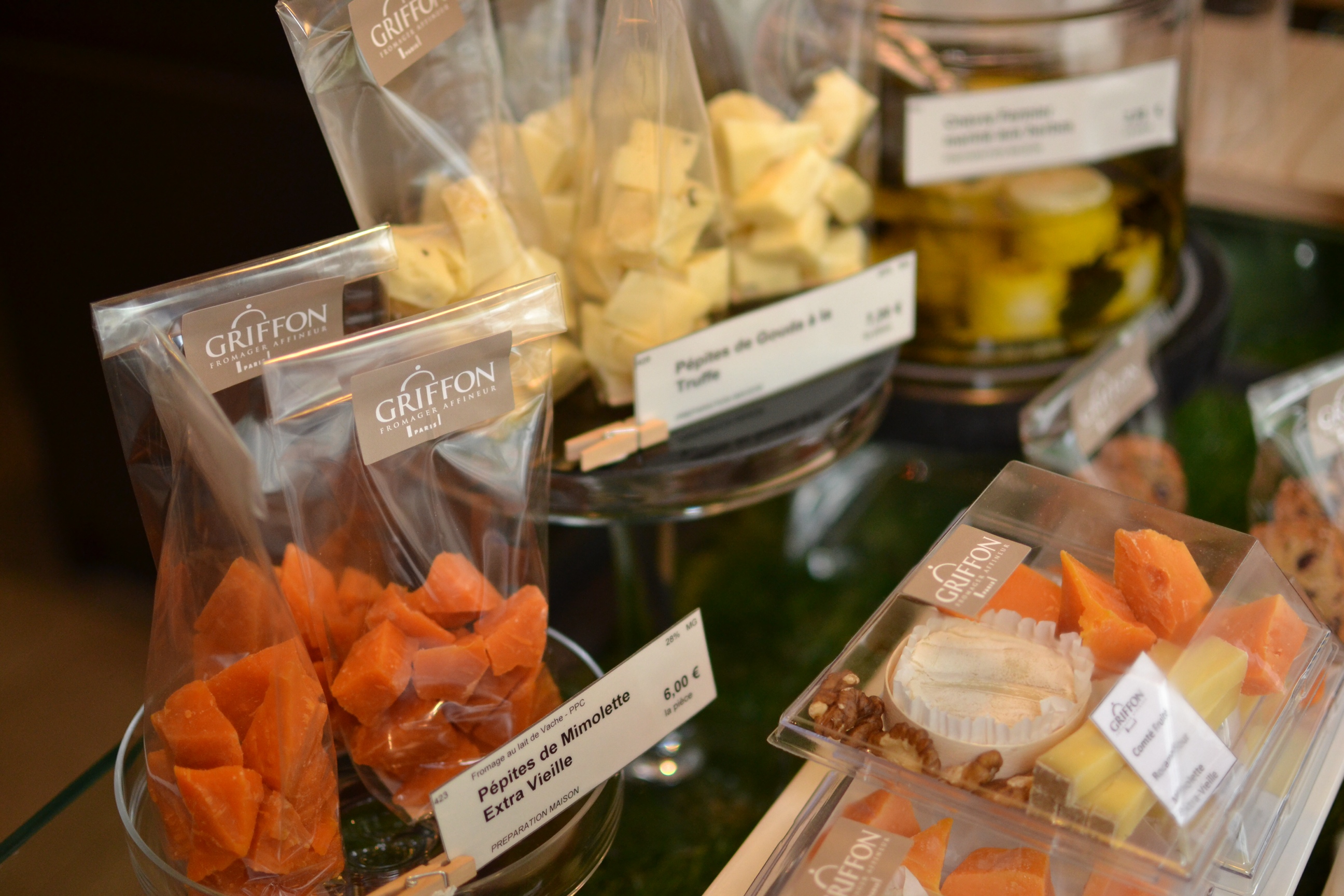 Mimolette at Fromagerie Griffon
A number of years ago I had the great fortune to spend a day in the Roquefort caves with Masseur Carles of Carles Roquefort.  After a couple of hours in the caves we travelled up to the countryside village of St Affrique where the sheep graze and the cheese is made.  We capped the day with a lunch and a tasting of many Roquefort styles.  I'll never forget how different the Roquefort looked and tasted there – snow white with dry powdery green mold.  When you cut into the cheese the mold spores would aerate like pollen on a windy day, and the paste would remain smooth and moist without losing any moisture on the plate.  I was happy to purchase a wedge of Carles Roquefort at Fromagerie Griffon and smear it with abandon on my baguette later that night.
The proprietress, Clare Griffon, was very gracious allowing me to take a few photos of her shop, but was clear, "only the cheese".  I really liked her shop, and was super impressed with her service style.  It was clear that I was a guest there and she followed me around the shop with a wooden board collecting my cheese selections as I circled and circled in a giddy cheese high not realizing that we might not be able to eat all the cheese I selected before coming back home to San Francisco.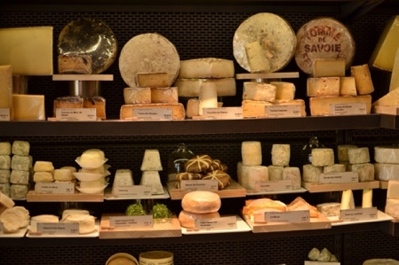 Fromagerie Griffon
On another day I went to see Fromagerie Quatrehomme, and upon arrival realized this is a new location from my last visit more than 10 years ago where it was a standout favorite.  This shop was impeccable with a great selection.  Unfortunately it was quite busy when I visited despite the rain, so I wasn't as comfortable asking to use my camera and to bend the ear of the staff.  Plus I had a fridge full of cheese at the apartment and dried Tarbais Beans (for Cassoulet), Provence Olive Oil, and various Bonnat and Pralus Chocolate bars weighing down my backpack from my visit to The Bon Marche high-end supermarket earlier.  Now at home, I wish I had been a little more courageous that rainy afternoon, because this is an excellent shop I can recommend without hesitation.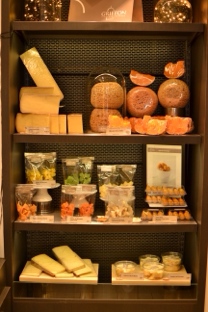 Fromagerie Griffon
Our apartment was near the St Paul metro stop where there are a few nice food shops including small cheese shop/kiosks for Laurent Dubois and Pascal Beillevaire.  I had a fridge full of cheese at the apartment so I only purchased a little yogurt, butter, and formage blanc for our breakfasts there, but fantasized that if we actually lived there we could do as the locals and make a few stops on the way home at the cheese shops, wine shops, bakeries, produce stalls, pharmacies, and butcher shops all lined in a row along the Rue St Antoine.
We visited a few of my favorite market streets – the Rue Mouffetard, Rue Montorgueil, and the Rue Cler.  Rue Cler is the shortest – just stretching about 3 blocks, but the caliber of the shops and restaurants are excellent.  Mouffetard, my first love, had faded a bit – maybe I've changed too.  Montorgueil was more enticing as it stretched down the hill landing us at my favorite kitchenware store E. Dehillerin.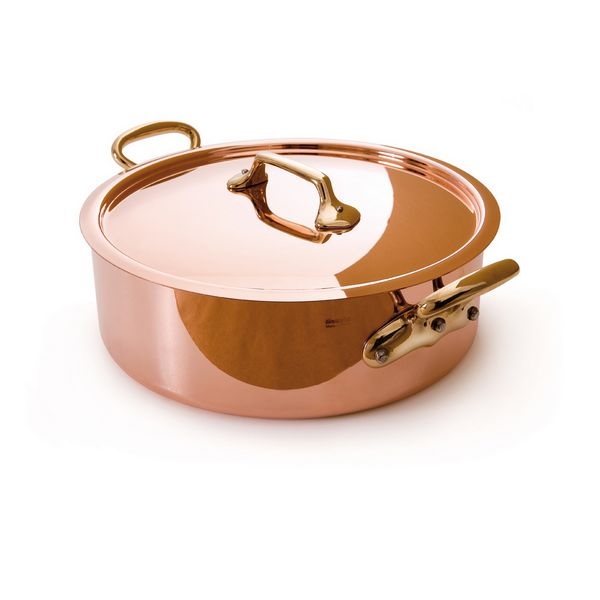 Mauviel Copper Braiser
E. Dehillerin has become a Paris tradition to always stop and make a special purchase before coming home.  This trip was no exception, as I was intent to find a copper braising dish to add to my batterie de cuisine.  And there she was, glistening copper and shiny steel with sexy sturdy curved brass handles.  
Oh how I missed the French franc and the strong dollar when I went to the cashier, but thank goodness for the French de-Tax which allows travelers to be refunded the 20% sales tax on purchases!
Love locks
Other food highlights were the Raspail Organic Open Market, a fantastic lunch at Chez Michel, a fine dinner at Le Coude Fou, the best hot chocolate at Angelina, wood baked bread at Poliane, Old-School cash-only Roast Lamb at Chez Omar, pitchers of juicy Gamay wine at lunchtime, tasty Falafel on the Rue des Rosiers, outdoor dining (despite the smokers), Foie Gras, Lamb Kidneys, White Asparagus, Poached Eggs and Morel Mushrooms, Andouillette Sausage (a surprise for my wife), Pheasant Hachis Parmentier at Café des Musées,  €12 tins of tea at Mariage Frères ($25 here), the best lettuce and salads greens, Organic Egg and Cheese Crepes at the Raspail Organic Market, and all those crispy frites!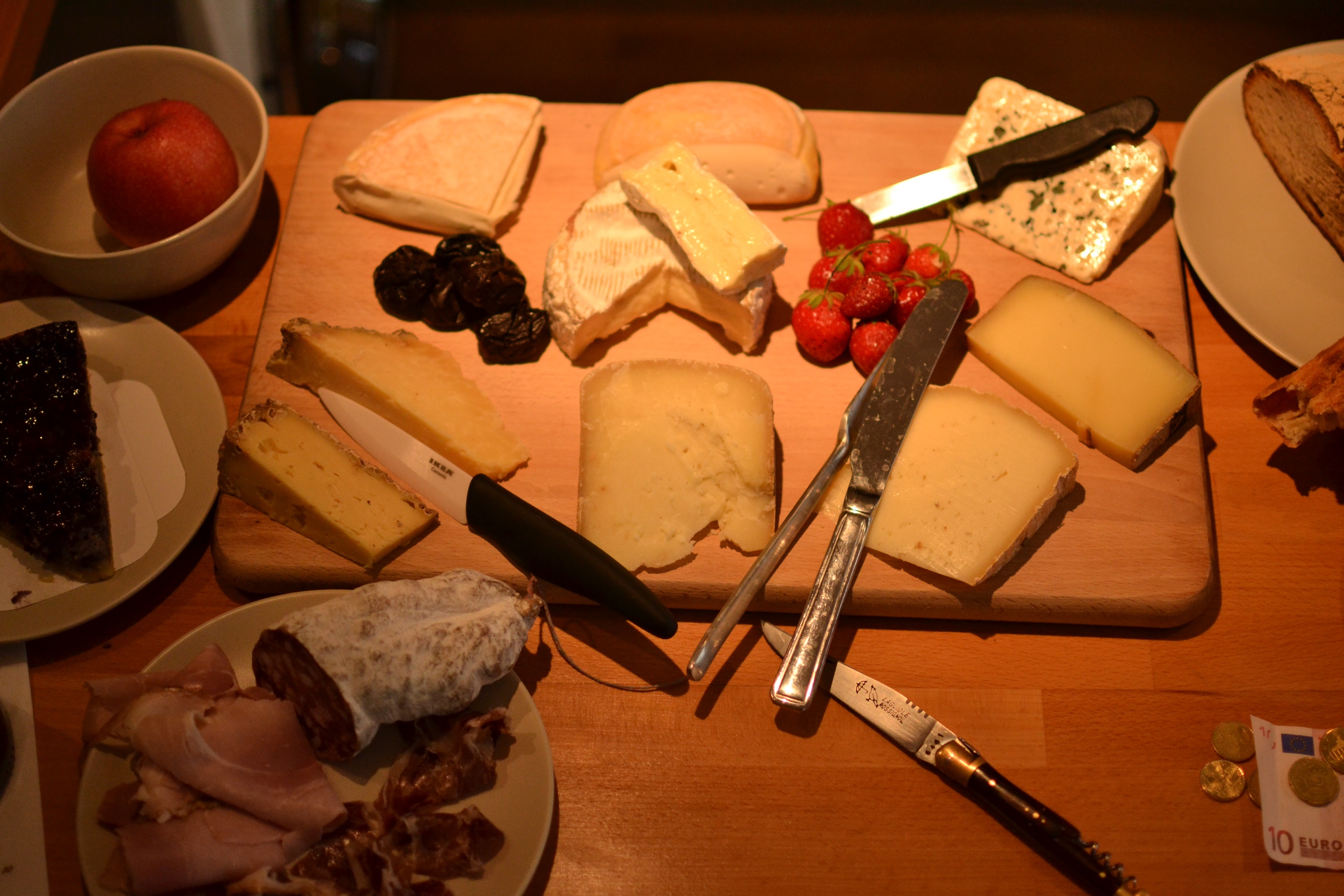 Too much cheese for 2?
I don't think I'll go back to the food halls at Galleries Lafayette again, nor did I find the Enfants Rouge or St Germain covered markets that inspiring, but the tiny Spanish Jamon Iberico store across from the St Germain market smelled so nice and hammy inside.  I was surprised to see so many Ladurée Macaron shops everywhere, and what's up with all those Subway sandwich shops?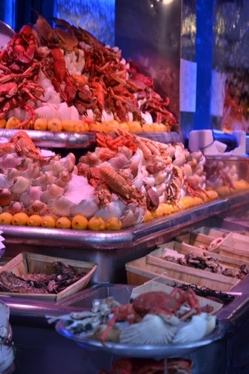 Parisian Seafood Restaurant
We did have a great time exploring the (non food-centric) covered passageways in the 2nd arrondisement that customer Hank recommended.  The glass and iron Passage des Panoramas and Passage Jouffrey (and others) predate shopping malls with small kiosks lined up on each side of the covered alleyways.  A few days later we were surprised to happen upon the covered passageways again and notice a line forming outside a restaurant down the street.  I peered at the menu and couldn't believe the low prices.  So we stepped into the line and were quickly whisked into one of Paris' oldest restaurants still in service – Chartier.  It reminded us a little of Tadich Grill here in San Francisco. While I might not recommend you go out of your way to eat here, I will say the menu has all the traditional French favorites, the prices are great, and the service is swift and fun!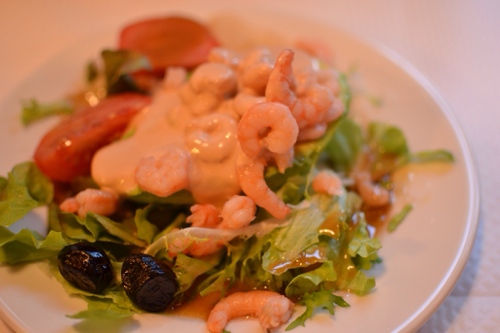 Avocado and Shrimp Salad at Chez Omar
I was excited to finally make it to the Fromagerie Laurent Dubois on Blvd St Germain on our last night in town.  I wanted a wheel of Reblochon to bring home for the staff to taste and although they were closing up, they vacuum sealed a wheel for me along with a big chunk of Aged Mimolette (also now banned from the US), and a block of salted Raw Butter.  While I didn't see the shop in all its glory as they were closing up, it looked a little nicer than their shop near our apartment.  Unfortunately I wasn't able to get a block of Foie Gras before our flight, so it seems I'll need another visit back to Paris very soon!
-Ray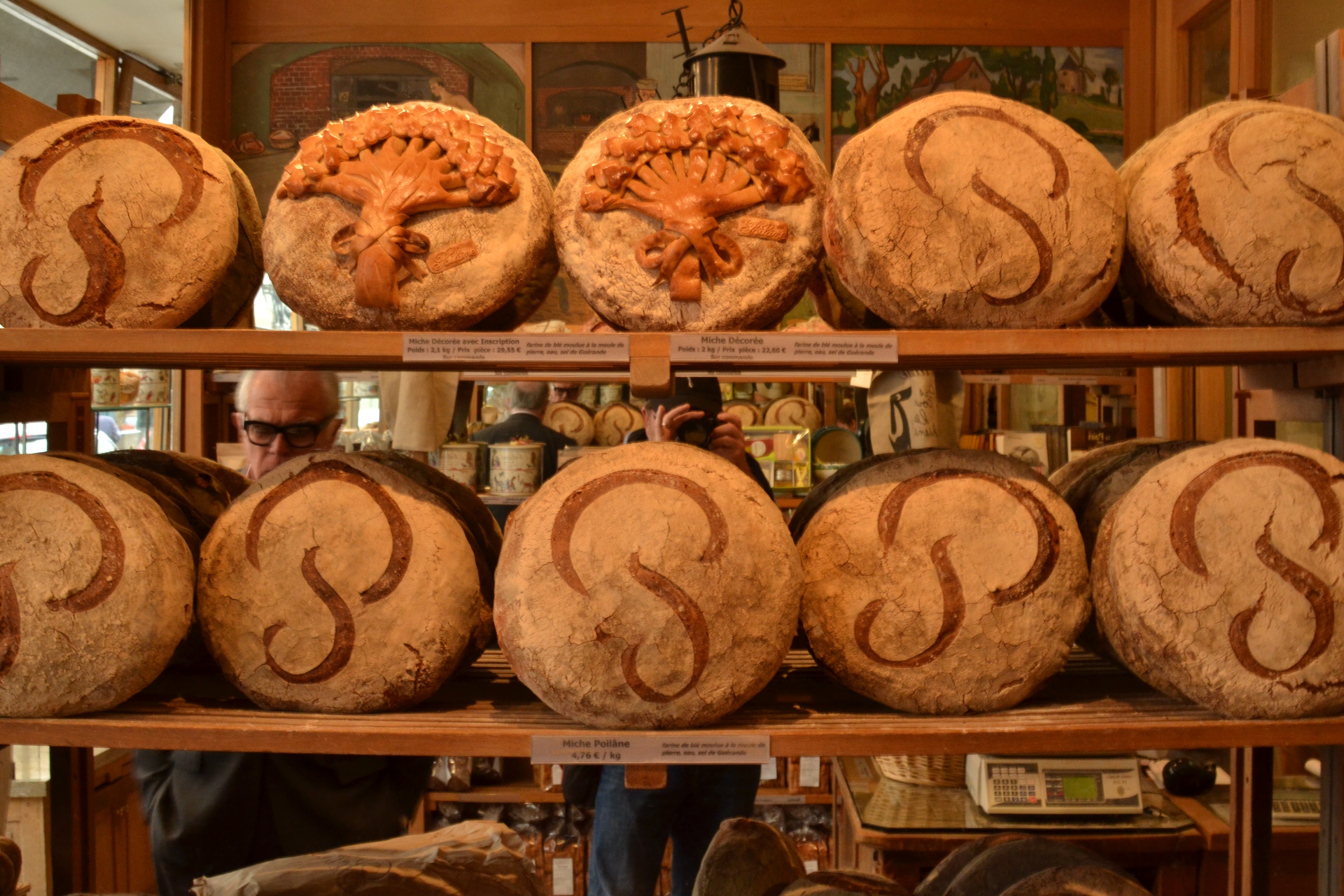 Poilane Bakery Loaves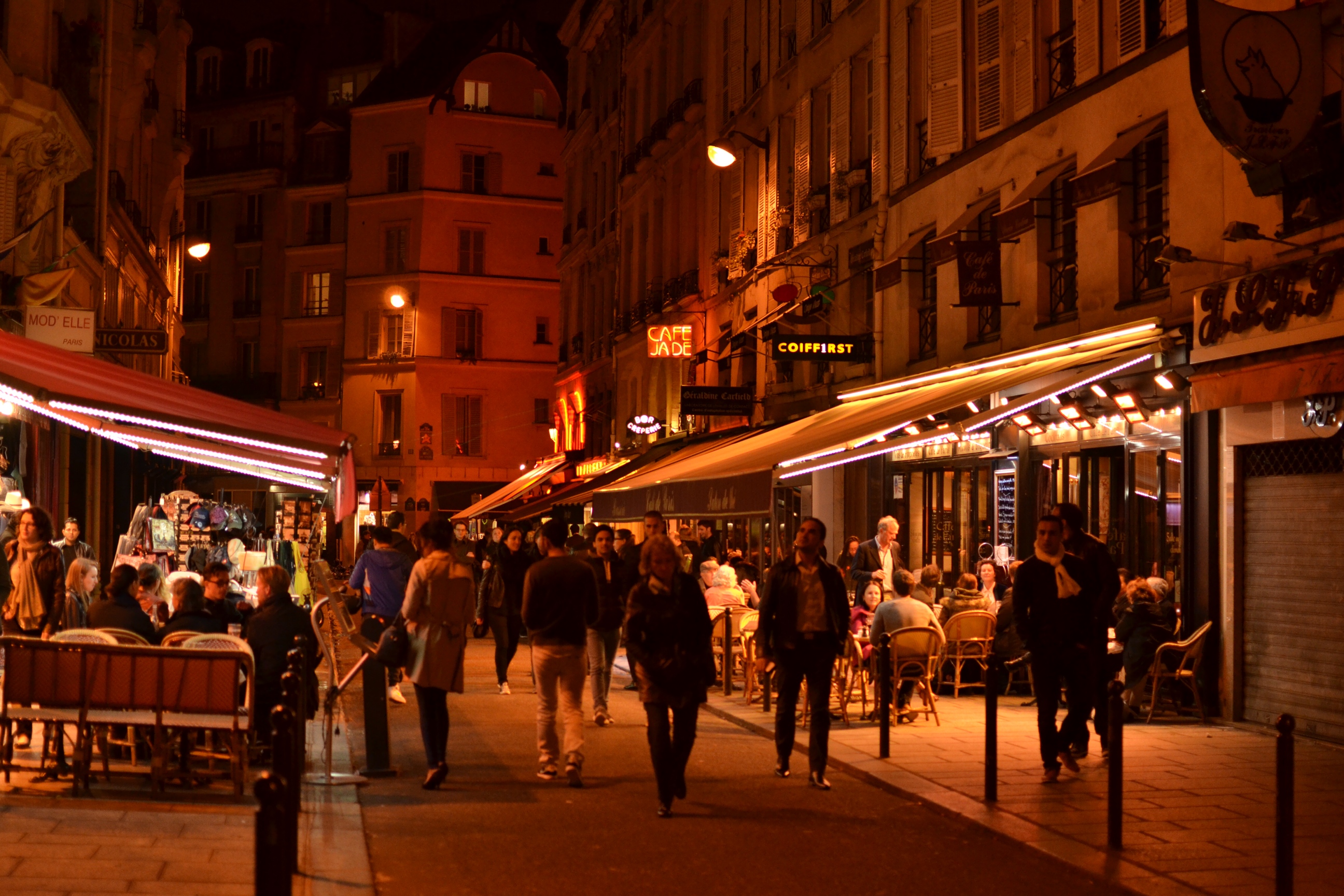 Friday night in Paris