Blue Ribbon Beauties – American Cheese Award Winners at Cheese Plus
Last week the American Cheese Society held its 32nd annual conference and competition (aka Cheese Camp) in Providence, Rhode Island. 267 cheese companies submitted 1779 products for judging.  For cheesemakers, entering their items for ACS judging is a great way to receive feedback in addition to the possibility of achieving the respect, admiration, and accolades that come with the ribbons. Unlike other cheese competitions where cheeses are graded down for technical defects, the goal of the ACS Judging & Competition is to give positive recognition to those cheeses that are of the highest aesthetic and technical quality. As a result, the highest quality cheeses are those that ACS feels deserve the recognition of an award, based on a minimum number of points awarded (totaling 100 points possible) for first, second, or third place. In categories or sub-categories where the minimum number of points is not earned, no award is given.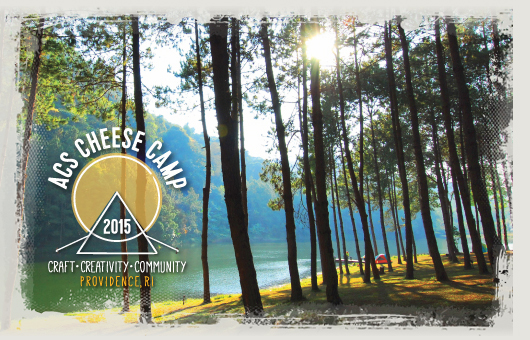 It's quite a feat to coordinate all the aspects of judging more than 1700 items. A team of volunteers is needed to receive, categorize, and present all the products using a top-secret alphanumeric coding system to facilitate the judging categories. At the ACS Judging and Competition, judging teams are paired up with a technical judge (typically a dairy scientist or educator), and an aesthetic judge (often a retailer or author). This year 19 judging pairs met for 2 full days to taste through all the entries. I've had the good fortune of judging at the ACS a number of times, and let me tell you, it's an extraordinary experience to be surrounded by so many fantastic products alongside a cadre of PhD's and my most respected culinary idols and colleagues.
We've put together a review of this years ribbon winners available at The Plus. There are a few old favorites here, and a few new items we were excited to see win ribbons. Stop by for a taste and enjoy the wonderfully rich assortment of great cheese from across the country!
1st Place Winners
Sofia
Capriole Goat Cheese
Greenville, Indiana
Category: Fresh Goat's Milk Cheese 0 to 30 day aged
Judy Schad has been making award winning goat cheese for more than 30 years at her farm just across the river from Louisville, KY. A favorite of ours for its delicate character and light creamy texture.
Fat Bottom Girl
Bleating Heart Cheese
Tomales, California
Category: American Original Sheep Milk
Named for its asymmetrical shape; it's the best of European inspired sheep cheese made across the Golden Gate Bridge. We were among Bleating Heart's first customers, purchasing Fat Bottom Girl from a paper bag with a handshake and a hundred bucks back in 2009!
Cabot Clothbound Cheddar
The Cellars of Jasper Hill
Greensboro Bend, Vermont
Category: Cheddar Wrapped in Cloth or Muslin
A unique partnership of aging Cabot's Cheddar at The Cellars of Jasper Hill resulting in a complex natural-rind, bandaged cheddar with a crumbly texture and nutty aroma. The flavor is deeply savory and slightly tangy with caramel sweetness to the finish.
Humboldt Fog
Cypress Grove Chévre
Arcata, California
Category: American Originals Goat's Milk
Mary Kheen challenged the rule that only the French could make great goat cheese when she introduced Humboldt Fog to the world back in 1992. Flaky yet creamy, texture with a tangy flavor – a favorite after all these years!
Reading Raclette
Farms for City Kids/Spring Brook Farm
Reading, Vermont
Category: Washed Rind Cheese, Raclette Style
Made from raw cow's milk on a farm that teaches urban kids where food comes from. It's so good, we no longer offer European Raclette!
Harbison
The Cellars at Jasper Hill
Greensboro Bend, Vermont
Category: Soft Ripened Cow's Milk
Another winner from Vermont, Harbison is a spruce bark wrapped "brie" that's woodsy and sweet, balanced with lemon, mustard, and vegetal flavors. We love to serve this as a whole wheel with the top rind removed and the creamy interior enjoyed by the spoonful. *Harbison also received a 3rd place Best of Show award this year
Traditional Brie
Marin French Cheese Co
Petaluma, California
Category: Soft Ripened, Brie Cow's Milk
California's oldest creamery (150 years!) is right in our backyard and makes fantastic French style soft ripened cheese. Smooth and buttery, with an earthy complexity.
2nd Place Winners
Dancing Fern
Sequatchie Cove Farm
Sequautchie, Tennessee
Category: Farmstead aged 60 days or more, 39% moisture or higher
A wonderful Reblochon-style cheese from grass fed Jersey and Holsteins with a soft and supple texture, an earthy aroma and notes of cultured butter, shiitake mushroom, and walnuts. *Farmstead cheeses are made on the farm where the milk is produced
Willoughby
The Cellars at Jasper Hill
Greensboro Bend, Vermont
Category: Soft Ripened Washed Rind
Sensing a theme here? The Folks at Jasper Hill are among the best cheesemakers in the USA. Willoughby is a small disc of golden goodness with meaty flavors reminiscent of French Époisses du Bourgogne.
Samson
Pugs Leap Cheese
Petaluma, California
Category: Farmstead aged 60 Days or more, Goat's Milk
Pugs Leap Cheese recently changed ownership and the cheese is better than ever. Samson is a natural rind aged Tomme-style cheese with a tangy, creamy citrus flavor profile.
Pleasant Ridge Reserve
Uplands Cheese
Dodgeville, Wisconsin
Category: Washed Rind Cheese Cow's Milk
One of favorite American made Alpine-style cheeses. Pleasant Ridge Reserve is the only cheese to have won ACS Best of Show three times (2001, 2005 and 2010).
Laychee
Pennyroyal Farm
Boonville, California
Category: Fresh Unripened Cheese Mixed Milks
We love this fresh spreadable blend of goat and sheep milk on breakfast toast, or broiled atop sliced baguette and served atop crisp summer salads.
Fromage Blanc
Bellwether Farms
Petaluma, California
Category: Fresh Unripened Cheese; Fromage Blanc, Fromage Frais, and Quark
A wonderful alternative to cream cheese, ricotta or fresh chévre. Take a tip from the French and serve with a drizzle of cream topped with sliced strawberries or preserves for dessert.
3rd Place Winners
Mt Tam
Cowgirl Creamery
Petaluma, California
Category: Soft Ripened Cheese, Triple Cream
One of most popular cheeses and for good reason. Rich and buttery with a smooth texture and tangy finish, and its made from certified Organic milk by some mighty nice cowgirls!
Truffle Tremor
Cypress Grove Chévre
Arcata, California
Category: Flavored Cheese, Soft Ripened All Milks
What makes Truffle Tremor so fantastic is the fine blending of European Black Truffles throughout the paste of the tangy goat cheese, offering a subtle yet defined truffle flavor unlike any other cheese.
Congratulations to all the award winners, it's an honor to offer your cheese and support great American cheese!
For a complete list of 2015 American Cheese Society Judging anfd Competition winners please click the link here